Salesforce has dominated the CRM applications market for years, holding a 25% market share–that's more than Adobe, Oracle, SAP, and Microsoft combined. Over the past two years, however, Oracle has fleshed out its full-stack cloud solution, and its CRM application is positioned to give Salesforce a run for its money. With all of Oracle's suite of applications running on the same platform, integration is unparalled. Companies that have a deep commitment to the Oracle application portfolio should seriously evaluate Oracle CRM.
This comparison chart, courtesy of IT Business Edge, gives you a 30,000 foot view, however it's important to note that cost-wise, the Salesforce numbers can quickly increase with added capabilities, and Salesforce is notorious for not negotiating on pricing. Oracle, on the other hand, is open to negotiation, particularly if you have an extensive Oracle portfolio. (And, by the way, Avout can help you get the best pricing available.)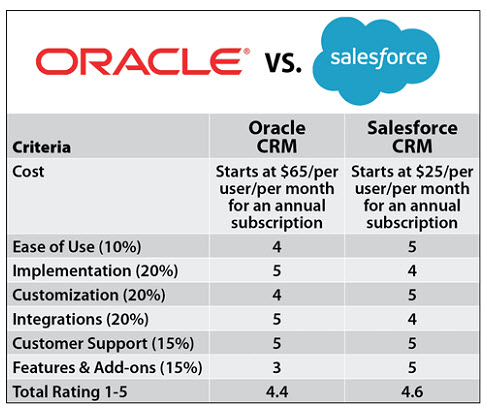 While Salesforce's acquisition of Mulesoft will bolster its integration capabilities, it still cannot match the Oracle advantage of all applications running on the same platform. And while Saleforce may presently lead the market in terms of its AI and machine learning capabilities, Oracle is ramping up efforts in this area as well, enhancing the Oracle Digital Assistant to engage using voice commands.