Keeping You Online, All the Time
You can't reach your business goals if you can't reach your servers. Our Managed Services follow proven ITIL® processes to deliver IT to your business with minimal disruption. Our services range from on-call support to full administration of your servers, network devices, databases, infrastructure, applications, and desktops—whether they are onsite, hosted, or in the cloud.
We have a long history of successfully managing large and complex application portfolios for our clients under multi-year contracts.
The Right Solution: Choose From Two Service Levels—Or Mix and Match to Create Your Own
AID We continuously monitor your server and network availability and performance, remediate issues with standard operating procedures (SOPs), and alert your organization if SOPs do not resolve the issue.
MANAGE We monitor and manage your IT environment for continuous uptime, proactively addressing concerns before they become problems and remediating any issues to resolution.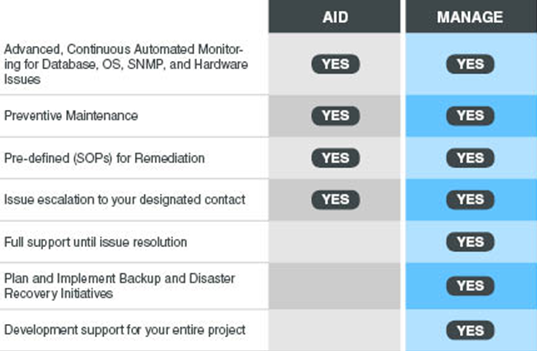 Regardless of the package you choose, you will have full visibility into the status of your environment with detailed reporting of all incoming alerts, trouble tickets, maintenance, and performance available via our secure Web portal.
Not sure whether your technology environment is doing you justice? Ask us about our Performance Deep Dive. We'll assess the efficiency of your current database and infrastructure design and identify quick wins for improvement.