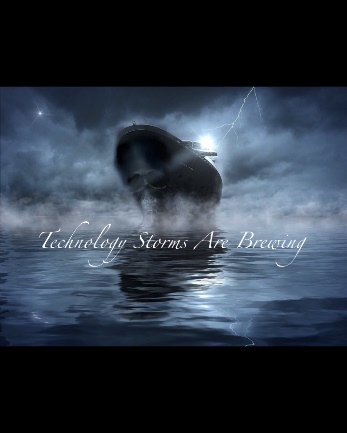 By Janet Dahmen
Implementing the latest and greatest release of any technology can be like sailing into uncharted waters. Many leadership teams will push technology departments into implementing the latest and greatest technology as a way of hedging the technology obsolescence cycle.  If you have been awarded the opportunity of leading a technology project that includes leading edge software or hardware, here are a few things to build into your implementation plan.
Cementing the Solution Increase the time needed to finalize the overall solution. There may be new features and functionality that impact how things "used to work", and the solution may have a higher learning curve to implement. Most technology companies will publish white papers that explain the technical improvements and how best to implement them. Your team will need time to absorb and adapt the newness of it all. Experience shows that the Solutioning phase typically takes 10% longer.
Support Escalation Path   Technology companies are very excited about their new release and want to market new customer success stories. They need your company to succeed and to be a reference to help promote their product. Their need, gives you leverage. During the procurement process, ensure you are provided an escalation path for getting help. Request information about how their "help desk" has been trained on the new features; and how to escalate problems. Keep your account manager aware of how things are going; and ask if there are special interest groups that you can join to share and learn from others.
Governance Specific to Technology Issues  The number of problems and issues specific to being on the "bleeding edge" are great. Leading edge technology is often full of wrinkles, and like it or not, your project is helping to iron them out. These types of projects require additional tracking mechanisms to capture information such as Service Request number, Priority (as defined by technology company,) Support Analyst, Log Date, Escalation Date. There may be several iterations of "fixes" before an issue is resolved. Keep track of each attempt and call upon the escalation path outlined above, before issues impact the critical path. Depending on the depth and breadth of the new technology, adjust your Build phase by 15-25%.
Integration Testing   End to End integration testing will need to be thorough. From a testing strategy perspective, ensure there are plenty of rainy day tests and sufficient buffer time for remediation of issues. Also include additional time to work through the remediation and re-testing of any failures.  Your integration testing should include at least 15% more time to handle the additional testing effort.
Change Control   Projects that consider implementing multiple types of new technology simultaneously (hardware, infrastructure, network, or software) should consider setting up a controlled integration approach. Any time more than one new technology is introduced, the time it takes to identify "what changed" multiplies exponentially. There will need to be total transparency and active communication across all implementation subteams. The introduction of change must be managed tightly and logged for historical reference. Not all problems show up the day after a change is made.   This is a perfect storm scenario that should only be considered if your project is not constrained by time or money.   These are "glory" projects that will be recognized for the team's technical prowess, problem solving skills, and unrelenting commitment to weathering the storm.
The technology user group season is about to kick off; and new technology is coming to a conference near you. Beware of the dangers lurking just beneath the technology surface.   Ensure that the decision to implement new technology includes additional consideration for your project's timeline, budget, governance and resources. Proceed with eyes wide open, adjust your implementation plans accordingly, and ensure your governance processes keep close tabs on the progression. There are many radical technology changes coming this year and it's exciting to be on the high seas of the technology of wave.
Janet Dahmen is Avout's Delivery Services Partner who focuses on ensuring the overall effectiveness and quality of each engagement.  She has over 20 years of project management experience in the IT industry, specializing in ERP implementations.  
Want to hear more about Project Management? Attend Janet's IOUG sessions (418 & 841) at COLLABORATE 15 #C15LV @IOUG! http://tinyurl.com/p6bywap